Have you ever received a mobile phone bill that seemed suspiciously high? You're not alone. Many consumers have been victims of illegal cramming charges on their phone bills. AT&T and Verizon have profited from these charges and have faced backlash for their actions. To understand the issue, we must first understand what cramming charges are.

What are cramming charges?
Cramming is when a third-party company places unauthorized charges on your phone bill. These charges can be for services that you never signed up for or even knew existed. The most common types of cramming charges are for premium text messaging services or for subscriptions to online services.
These charges can be as small as a few dollars or as high as hundreds of dollars. Cramming charges often go unnoticed because they appear on phone bills alongside legitimate charges. Many consumers assume that these charges are legitimate and end up paying them without question.
The Federal Trade Commission estimates that cramming charges have cost American consumers hundreds of millions of dollars in recent years. AT&T and Verizon have been two of the largest culprits of cramming charges.

How have AT&T and Verizon profited from cramming charges?
Third-party companies often partner with phone carriers like AT&T and Verizon to place unauthorized charges on consumers' phone bills. The phone carriers receive a percentage of the profit from each of these charges. This means that AT&T and Verizon have profited from cramming charges even though they are illegal and unethical.
AT&T and Verizon have faced backlash for their involvement in cramming charges. In 2014, AT&T paid $105 million to settle a lawsuit over their cramming practices. Verizon paid $90 million in 2016 to settle a similar lawsuit.

What can consumers do to protect themselves from cramming charges?
There are several steps that consumers can take to protect themselves from cramming charges:
Read your phone bill carefully. Look for any charges that you don't recognize or didn't authorize.
Be wary of unsolicited text messages or phone calls that ask you to enter your phone number or to subscribe to a service.
Do your research before subscribing to any online service. Check the company's reputation and read reviews from other customers.
Contact your phone carrier and ask them to block premium text messaging services and other types of third-party charges.
If you do notice an unauthorized charge on your phone bill, contact your phone carrier immediately and dispute the charge.

FAQ
Q: What should I do if I notice an unauthorized charge on my phone bill?
A: Contact your phone carrier immediately and dispute the charge. Be sure to provide evidence that you did not authorize the charge.
Q: Can I take legal action against my phone carrier for allowing cramming charges on my bill?
A: Yes, you may be able to take legal action against your phone carrier. You can file a complaint with the Federal Communications Commission or consult a consumer protection attorney.
Overall, consumers should be vigilant when it comes to their phone bills. Cramming charges are illegal and unethical, but they can still happen. By reading your phone bill carefully and taking steps to protect yourself, you can prevent cramming charges from costing you hundreds or even thousands of dollars.
If you are looking for AT&T Wireless – View and Pay Bill Online you've came to the right web. We have 5 Pics about AT&T Wireless – View and Pay Bill Online like January | 2013 | Chico Taxpayers Association | Page 2 and also January | 2013 | Chico Taxpayers Association | Page 2. Here it is: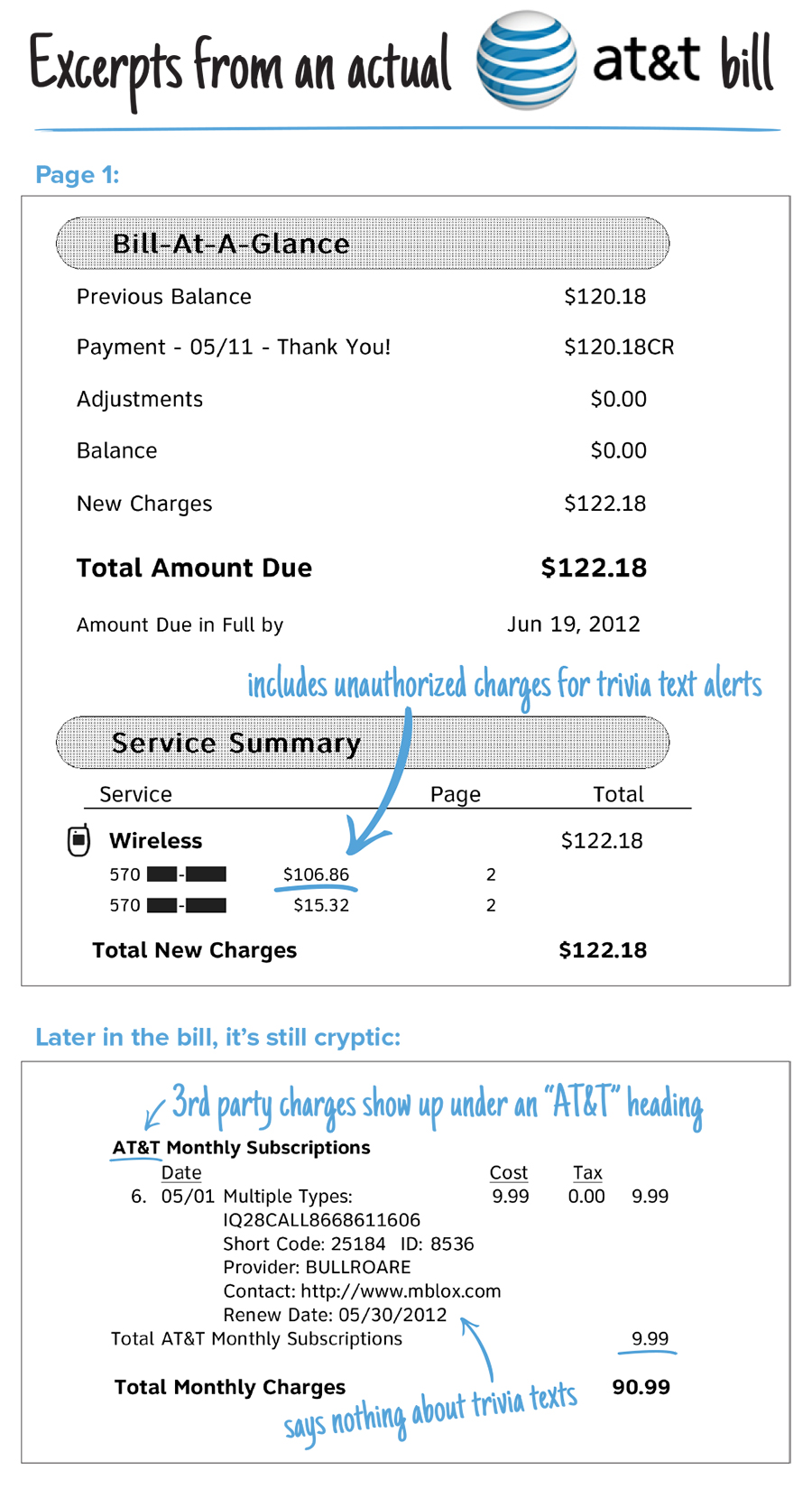 AT&T Broadband: Rapid Web Service for Your Internet Needs.
In the modern society, dependable and quick web access is vital for a majority of Americans. Regardless of business needs, entertainment, online shopping, or maintaining communication with family, having a high-speed web access at home is vital. AT&T High-Speed Internet is among top internet providers in US, offering a wide range of online packages and options to fulfill the requirements of varied households. In this write-up, we will investigate the crucial attributes, advantages, and factors of AT&T Broadband, along with the procedure of subscribing to their services.
AT&T Internet Features: Essential Aspects of AT&T Broadband.
AT&T Internet presents a variety of attributes that position it a in-demand choice among consumers. One of the the key facets is its swift web connectivity, with packages supplying speeds of up to 940 Mbps in chosen areas, enabling seamless content streaming, online gaming, and other bandwidth-intensive operations. AT&T Internet also gives limitless data consumption, permitting you to explore, stream, and retrieve without worrying about hitting data caps or incurring additional costs.

An additional notable aspect of AT&T Internet is its dependability. AT&T owns a large and robust network system that spans throughout the United States, providing a stable and constant internet connection for its customers. Moreover, AT&T provides advanced Wi-Fi technology, such as the AT&T Smart Home Manager, which permits you to handle your Wi-Fi network, monitor connected devices, and enhance your Wi-Fi performance for better coverage and speeds.

AT&T Internet also offers added value through combo choices. Customers can package their internet service with AT&T's different services, like TV and home phone, to save on monthly bills and experience the convenience of having multiple services from one provider. AT&T additionally gives security, including internet security suite and device protection, to assist safeguard your online online undertakings and safeguard your devices from online risks.
Advantages of AT&T Internet
Opting for AT&T Internet as your ISP offers several benefits. One of the primary advantages is its fast internet access, which enables smooth video streaming, quick file downloads, and smooth gaming experience. With AT&T's high-speed fiber network, you can experience a trustworthy and fast internet connection that handles multiple devices at the same time, making it ideal for households with many users and devices.

AT&T Internet features customizable plans and pricing options, enabling you to pick the plan that suits your needs and budget. Whether you're a light internet user or a frequent online gamer, AT&T has plans with varying speeds to serve different usage patterns. The availability of bundle options gives ease and savings for customers who desire to bundle their internet service with other AT&T services.

AT&T's commitment to client support is another advantage of choosing their internet service. AT&T has a devoted customer service team that is reachable 24/7 to help with any technical issues or inquiries. They also supply online resources, such as helpful guides for resolving issues and self-help tools, to help customers address common internet-related concerns.
Aspects to Think About Concerning AT&T Internet
Even though AT&T Internet comes with several pros, there are also certain aspects to keep in mind. An important consideration to take into account is the availability of AT&T Internet in your area. AT&T's fiber-optic network may not be available in all areas, and their internet service may be limited to certain areas. Before subscribing to AT&T Internet, it's crucial to check the availability in your particular location to ensure that you can receive their service.

Another aspect is the potential for price changes. Like numerous other ISPs, AT&T Internet might provide promotional pricing for a specific period, and the monthly rate might go up after the promotional period ends. It's vital to examine the terms and conditions of the service and comprehend any potential price changes that could take place during the course of your subscription.

Additionally, it's important to think about the contract terms with AT&T Internet. Some plans could mandate a contract commitment for a particular period, and early termination fees might be applicable if you opt to cancel before the contract expires. Make sure to check the contract terms and comprehend any potential fees or penalties before committing to a plan.

Another aspect is the hardware required for AT&T Internet service. AT&T provides a modem and/or a gateway for their internet service, which may come with a monthly rental fee. Alternatively, you might opt to purchase your own compatible modem or gateway. It's vital to understand the equipment requirements and associated costs to make an informed decision.
Signing up for AT&T Internet
Enrolling in AT&T Internet is a straightforward process. You can start by verifying the availability of AT&T Internet in your location on their website or by contacting their customer service. Once you have validated the serviceability, you can browse through their packages and pricing choices to select the one that best suits your requirements and finances.

During the sign-up process, you may require to input personalized and billing details, like your full name, location, and billing method. You may also be required to choose any extra services or add-ons, such as bundling with TV or home phone, or including security features. Ensure to go over the conditions and terms of the subscription, including any potential contract obligations or rate changes, before finalizing your sign-up.

Following subscribing to AT&T Internet, you will get information on the setup process. AT&T will arrange a installer to set up and configure the required equipment at your residence. The technician will verify that your internet connection is active, and may also assist with guidance in setting up your Wi-Fi network and connecting your devices.
Conclusion
AT&T's broadband provides dependable, swift internet access including a variety of features and benefits for residences across the United States. With its fiber-optic infrastructure, unrestricted data usage allowance, and advanced Wi-Fi technology, AT&T Internet provides a smooth online experience for streamed content, gaming, and different bandwidth-intensive activities.

The flexibility of subscriptions and combining options, along with their focus to customer care, renders AT&T Internet a favored choice for consumers.

Nonetheless, it's important to consider aspects like availability, potential rate changes, contract terms, and equipment specs when subscribing to AT&T Internet. By comprehending the terms and terms of the service, you can take an educated choice and benefit from the benefits of dependable and rapid internet access with AT&T Internet.

In summary statement, AT&T Internet delivers a strong and trustworthy broadband service that cater to the online requirements of American homes. With its high-speed connectivity, innovative features, and adaptable subscriptions, AT&T Internet is a leading selection for many consumers. If you're in need of a reliable internet service provider, AT&T Internet might be worth looking into for your residence.