Low Income Internet Options for Families and Students
In today's society, having access to the Internet has become vital for almost every aspect of life. However, for low-income households or students, Internet access may not be affordable, which can negatively impact their education, job opportunities, and overall quality of life. Fortunately, there are several low-income Internet options available that can provide reliable and affordable access to those who need it the most.
AT&T Low Income Internet
AT&T is one of the leading providers of low-income Internet programs for families and seniors. Their Access program provides affordable Internet access with speeds up to 10 Mbps for just $10/month, which is significantly lower than their regular prices. Additionally, they offer a variety of other plans, depending on your needs and budget. To qualify for AT&T's low-income Internet program, you must live in a geographic area where AT&T Internet service is available, have at least one resident who participates in SNAP, and meet other eligibility criteria.
Frontier Lifeline Program
Frontier is another popular provider of low-income Internet services, offering their Lifeline program to eligible households. This program provides access to basic Internet speeds of 5 Mbps or above for as low as $9.25 per month. To qualify for Frontier's Lifeline program, you must meet certain income and eligibility requirements. Additionally, Frontier also offers a variety of other plans, including high-speed Internet, TV, and phone services.
Internet Essentials by Comcast
Comcast is one of the largest providers of Internet services, offering a variety of plans for different needs and budgets. Their Internet Essentials program provides affordable Internet access to low-income households or students for just $9.95 per month. This plan offers Internet speeds up to 50 Mbps, which is more than enough for browsing, streaming, and online learning. To qualify for Comcast's Internet Essentials program, you must meet certain income and eligibility requirements.
Transforming Lives Through Low-Income Internet Programs
Low-income Internet programs are not just valuable for families and students who struggle to access affordable Internet services. They're also essential for transforming lives by providing people with the tools and resources needed to succeed. Whether it's helping kids complete their homework, giving parents access to job opportunities or healthcare information, or connecting seniors to friends and family members, low-income Internet programs can make a significant impact on people's daily lives.
However, many people who are eligible for these programs may not be aware of their existence, which is what makes education and outreach efforts so important. Government agencies, community organizations, and businesses can all play a role in spreading awareness and encouraging people to take advantage of these programs. By working together, we can make a difference in the lives of low-income families and students.
FAQ
Q: What type of Internet speeds should I expect from low-income Internet programs?
A: Low-income Internet programs offer a variety of Internet speeds, depending on the provider and plan you choose. Generally, speeds range from 5 Mbps to 50 Mbps. However, the actual speed you receive may depend on various factors such as network congestion, location, and the quality of your equipment.
Q: Are there any additional fees or charges associated with low-income Internet programs?
A: Some low-income Internet programs may involve additional fees or charges, such as installation fees or equipment rental fees. However, most of these programs offer considerable discounts on these costs or may waive them altogether. It's always a good idea to read the terms and conditions carefully and ask questions to ensure you understand the total cost of the plan.
In conclusion, low-income Internet options are essential for providing affordable and reliable access to the Internet for families and students who need it the most. These programs can help transform lives by providing access to educational resources, healthcare information, job opportunities, and more. By working together to spread awareness and encourage people to take advantage of these programs, we can create a brighter and more equitable future for all.
If you are looking for Internet options for students on low income | ZDNet you've visit to the right page. We have 4 Pics about Internet options for students on low income | ZDNet like Internet options for students on low income | ZDNet and also Frontier Lifeline Program Low Income Internet – How To Qualify. Here it is: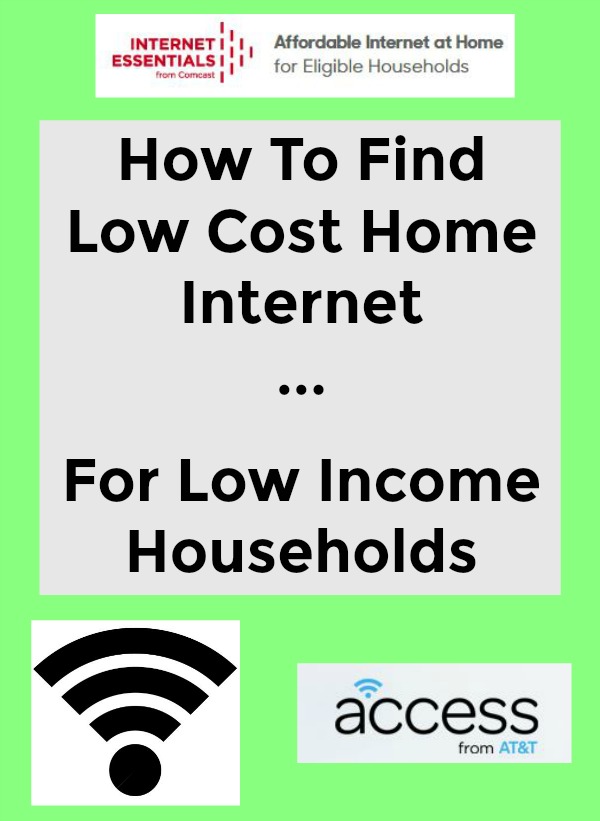 AT&T Broadband: Speedy Web Service for Your Household's Internet Needs.
In today's fast-paced society, consistent and speedy connectivity is vital for many Americans. Whether it's for business needs, entertainment, e-commerce, or keeping in touch with friends, having a fast internet connection at home is vital. AT&T Broadband is one of the premier internet service providers in America, supplying a diverse selection of web plans and options to fulfill the requirements of different households. In this piece, we will investigate the key features, benefits, and factors of AT&T Broadband, as well as the process of subscribing to their offerings.
AT&T Internet Characteristics: Essential Elements of AT&T Internet.
AT&T Internet offers a selection of options that render it a well-liked option among consumers. Among the key aspects is its rapid internet access, with subscriptions supplying speeds of up to 940 Mbps in chosen areas, allowing seamless streaming, gaming, and other high-data-usage tasks. AT&T Internet also provides limitless data usage, allowing you to browse, watch, and get without fretting about hitting data caps or incurring in additional costs.

An additional prominent attribute of AT&T Internet is its dependability. AT&T has a vast and stable network system that spans over the America, providing a consistent and consistent internet connection for its users. Furthermore, AT&T offers advanced Wi-Fi technology, such as the AT&T Smart Home Manager, which enables you to manage your Wi-Fi network, observe connected devices, and improve your Wi-Fi performance for improved coverage and speeds.

AT&T Internet also offers additional benefits through package choices. Customers can combine their internet service with AT&T's other services, such as TV and home phone, to lower on monthly bills and experience the comfort of having multiple services from one provider. AT&T additionally provides safeguards, including internet security suite and device protection, to help secure your online online undertakings and protect your devices from online threats.
Benefits of AT&T Internet
Opting for AT&T Internet as your ISP offers multiple perks. One of the main benefits is its fast internet access, which allows for seamless streaming, fast downloads, and uninterrupted online gaming. With AT&T's high-speed fiber network, you can experience a trustworthy and fast internet connection that supports multiple devices concurrently, making it ideal for households with multiple users and devices.

AT&T Internet also offers flexible plans and pricing options, enabling you to choose the plan that best fits your needs and budget. Whether you're a occasional internet user or a heavy online gamer, AT&T has plans with different speeds to serve diverse usage patterns. The availability of bundling options offers convenient and savings for customers who wish to bundle up their internet service with other AT&T services.

AT&T's focus to customer service is another advantage of opting for their internet service. AT&T has a devoted customer service team that is accessible 24/7 to aid with any technical issues or inquiries. They also provide online resources, such as helpful guides for resolving issues and self-help tools, to assist customers address common internet-related concerns.
Aspects to Take into Account Concerning AT&T Internet
Although AT&T Internet offers numerous pros, there are also certain aspects to take into account. A key aspect to take into account is the availability of AT&T Internet in your location. AT&T's fiber-optic network may have limited coverage, and their internet service might be limited to specific areas. Before subscribing to AT&T Internet, it's important to confirm the availability in your particular location to guarantee that you can avail their service.

Another consideration is the potential for pricing fluctuations. Like many other ISPs, AT&T Internet could have promotional pricing for a specific period, and the monthly rate might go up after the promotional period ends. It's important to review the terms and conditions of the service and grasp any potential price changes that could take place during the course of your subscription.

Additionally, it's important to take into account the contract terms with AT&T Internet. Some plans may require a contract commitment for a certain period, and early termination fees may apply if you decide to cancel before the contract expires. Make sure to check the contract terms and comprehend any potential fees or penalties before committing to a plan.

Another factor is the equipment required for AT&T Internet service. AT&T provides a modem and/or a gateway for their internet service, which could involve a monthly rental fee. Alternatively, you can choose to purchase your own compatible modem or gateway. It's important to grasp the equipment requirements and associated costs to make an informed decision.
Subscribing to AT&T Internet
Signing up for AT&T Internet is a simple procedure. You can start by verifying the serviceability of AT&T Internet in your location on their website or by calling their customer service. Once you have validated the serviceability, you can review through their plans and pricing choices to select the one that best meets your needs and finances.

Throughout the enrollment procedure, you may need to input personal and billing information, such as your name, location, and billing method. You may also need to select any extra features or enhancements, like bundling with TV or home phone, or including security features. Ensure to go over the terms and conditions of the subscription, including any potential contract commitments or rate changes, before finalizing your sign-up.

After signing up for AT&T Internet, you will receive information on the setup process. AT&T will arrange a installer to set up and configure the necessary equipment at your home. The technician will verify that your online connection is active, and may also provide guidance in configuring your Wi-Fi network and connecting your devices.
Conclusion
AT&T Internet provides dependable, swift internet access with an array of options and advantages for homes across the United States. Using its optic infrastructure, unlimited data usage allowance, and cutting-edge Wi-Fi tech, AT&T Internet provides a effortless online experience for streaming, gaming, and various bandwidth-intensive online activities.

The versatility of packages and combining options, combined with their focus to client support, makes AT&T Internet a favored selection among customers.

Nonetheless, it's crucial to take into account elements such as serviceability, possible rate changes, agreement terms, and device requirements when signing up to AT&T Internet. By understanding the conditions and terms of the service, you can make an informed judgment and enjoy the benefits of dependable and rapid internet access with AT&T Internet.

In summary statement, AT&T Internet delivers a robust and trustworthy internet service that caters to the online requirements of American residences. Featuring its fast connectivity, advanced features, and flexible plans, AT&T Internet is a top choice for several consumers. If you're looking for a trustworthy internet service provider, AT&T Internet may be worth considering for your home.