Looking to compare the 5G network speeds of Verizon, AT&T, and T-Mobile? You are not alone. As we move towards a future where 5G connectivity will become the norm, many of us are looking for the provider that has the best coverage, the lowest latency, and the fastest speeds.
Verizon vs T-Mobile vs AT&T: Which Is Faster?
We looked at a range of factors to determine which network is faster, including latency, download speeds, and peak network performance. Here is what we found:
Latency
Latency refers to the time it takes for data to travel from one device to another. When it comes to 5G, latency is critical for gamers, as even the slightest latency can affect gameplay.
The good news is, all three networks offer low latency, with T-Mobile leading the pack with an average of 32ms, followed closely by Verizon with 35ms, and AT&T with 44ms.
Download Speeds
When it comes to 5G network speeds, there is a significant difference between the three providers. In a recent study conducted by Ookla, Verizon was found to have the fastest 5G download speeds, with an average of 517 Mbps, followed by AT&T with 256 Mbps and T-Mobile with 121 Mbps.
Peak Network Performance
Another important factor to consider is peak network performance. This refers to the maximum speed a network can support. In this regard, Verizon again outperforms the competition, with a peak speed of 1.93 Gbps, compared to AT&T's 927 Mbps and T-Mobile's 872 Mbps.
T-Mobile Leads in 5G Rollout
While Verizon may have the edge when it comes to network speeds, T-Mobile is leading the way in 5G network rollout. According to reports, T-Mobile currently has 5G coverage in over 8,300 cities and towns, followed by AT&T with 2,700 and Verizon with 2,700.
This means that while T-Mobile may not have the fastest speeds, it has the most extensive coverage, providing 5G connectivity to more people than the competition.
AT&T vs T-Mobile: The Key Differences
If you're trying to decide between AT&T and T-Mobile for your 5G needs, there are a few key differences that you should be aware of:
Coverage
As we mentioned earlier, T-Mobile has the most extensive 5G coverage, making it the best choice for those who need reliable connectivity no matter where they are. AT&T has much less extensive coverage, so if you're in a rural area, you may find that their 5G coverage is spotty at best.
Speeds
While T-Mobile may not have the fastest speeds, it is still a solid choice for most users, offering average download speeds of around 121 Mbps. AT&T, on the other hand, is a better option for those who need faster speeds, with an average download speed of 256 Mbps.
Price
Of course, price is always a key factor to consider when choosing a mobile provider. In general, T-Mobile tends to be more affordable than AT&T, offering more flexible plans and lower data rates.
Frequently Asked Questions
1) Do I need a special device to access 5G networks?
Yes, you will need a device that is 5G-enabled to access 5G networks. Most newer smartphones are 5G-compatible, but you should check with your provider to be sure.
2) Will 5G replace 4G completely?
While 5G is expected to eventually replace 4G as the standard for mobile networks, this will likely take several years. For the time being, 4G will continue to be the primary connectivity option for most users.
As we continue to move towards a future where 5G is the norm, it is important to stay informed about which providers offer the best coverage, the fastest speeds, and the lowest latency. While Verizon currently holds the crown when it comes to network speeds, T-Mobile's extensive coverage may make it a better choice for many users. Similarly, AT&T's faster speeds may be appealing to others, so it is important to weigh your options carefully before making a decision.
If you are searching about AT&T Officially Gives Up On T-Mobile Acquisition you've visit to the right web. We have 5 Pics about AT&T Officially Gives Up On T-Mobile Acquisition like T-Mobile leads Verizon and AT&T in 5G rollout | on5g and also AT&T Officially Gives Up On T-Mobile Acquisition. Here you go: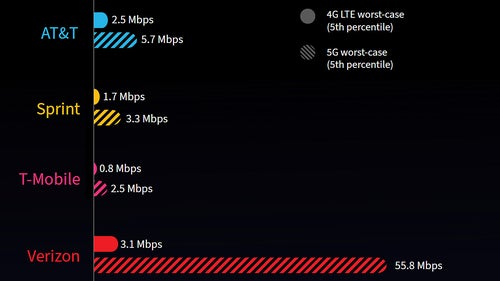 AT&T Internet: Quick Web Connectivity for Your Online Demands.
In today's fast-paced era, consistent and rapid connectivity is essential for most Americans. Whether it's for business needs, streaming, online shopping, or staying connected with friends, having a fast web access at home is critical. AT&T Internet is among premier ISPs in the United States, offering a diverse selection of web plans and features to fulfill the demands of varied households. In this piece, we will investigate the essential attributes, pros, and things to consider of AT&T Broadband, along with the steps of signing up to their services.
AT&T Internet Attributes: Crucial Aspects of AT&T Internet.
AT&T Internet presents a selection of amenities that render it a in-demand selection among customers. One of the the primary aspects is its high-speed internet access, with subscriptions providing speeds of up to 940 Mbps in select areas, enabling seamless content streaming, gaming, and other high-data-usage operations. AT&T Internet also gives unrestricted data consumption, permitting you to surf, watch, and retrieve without concerning about hitting data caps or incurring additional charges.

One more notable aspect of AT&T Internet is its trustworthiness. AT&T owns a large and strong network structure that spans across the United States, ensuring a reliable and constant internet connectivity for its subscribers. Moreover, AT&T presents high-tech Wi-Fi tech, like the AT&T Smart Home Manager, which enables you to manage your Wi-Fi network, track connected devices, and optimize your Wi-Fi performance for improved coverage and speeds.

AT&T Internet also gives extra perks through package alternatives. Subscribers can combine their internet service with AT&T's additional services, including TV and home phone, to save on monthly bills and experience the ease of having multiple services from one company. AT&T additionally offers safeguards, such as internet security suite and device protection, to assist secure your online online undertakings and secure your devices from online threats.
Advantages of AT&T Internet
Opting for AT&T Internet as your ISP offers multiple perks. One of the main benefits is its fast internet access, which permits effortless online streaming, rapid downloads, and uninterrupted gaming experience. With AT&T's high-speed fiber network, you can enjoy a reliable and fast internet connection that accommodates multiple devices simultaneously, making it ideal for households with many users and devices.

AT&T Internet features adaptable plans and pricing options, allowing you to pick the plan that matches your needs and budget. Whether you're a casual internet user or a heavy online gamer, AT&T has plans with varying speeds to accommodate diverse usage patterns. The availability of package options offers ease and savings for customers who want to bundle their internet service with other AT&T services.

AT&T's dedication to customer service is another benefit of opting for their internet service. AT&T has a dedicated customer service team that is accessible 24/7 to assist with any technical issues or inquiries. They also provide online resources, such as guides for issue resolution and self-help tools, to assist customers address common internet-related concerns.
Factors to Take into Account Concerning AT&T Internet
Although AT&T Internet offers several advantages, there are also some aspects to take into account. An important consideration to consider is the availability of AT&T Internet in your region. AT&T's fiber-optic network may have limited coverage, and their internet service could be limited to certain areas. Before subscribing to AT&T Internet, it's vital to confirm the availability in your exact location to guarantee that you can avail their service.

Another consideration is the potential for price changes. Like several other ISPs, AT&T Internet could have promotional pricing for a particular period, and the monthly rate could rise after the promotional period ends. It's important to review the terms and conditions of the service and understand any potential price changes that might happen during the course of your subscription.

Additionally, it's crucial to consider the contract terms with AT&T Internet. Some plans may require a contract commitment for a particular period, and early termination fees could be incurred if you choose to cancel before the contract expires. Make sure to review the contract terms and understand any potential fees or penalties before committing to a plan.

Another consideration is the gear required for AT&T Internet service. AT&T provides a modem and/or a gateway for their internet service, which could involve a monthly rental fee. Alternatively, you may have the option to purchase your own compatible modem or gateway. It's important to grasp the equipment requirements and associated costs to make an informed decision.
Signing up for AT&T Internet
Subscribing to AT&T Internet is a straightforward process. You can begin by verifying the availability of AT&T Internet in your location on their website or by contacting their customer service. Once you have confirmed the serviceability, you can browse through their options and pricing options to choose the one that most suits your requirements and finances.

During the enrollment procedure, you may need to input personalized and payment details, like your full name, location, and billing option. You may also be required to select any extra features or enhancements, like combining with TV or home phone, or adding security features. Ensure to examine the conditions and terms of the service, including any possible contract obligations or rate changes, before finalizing your sign-up.

Following enrolling in AT&T Internet, you will obtain information on the setup process. AT&T will arrange a installer to install and configure the required equipment at your residence. The technician will ensure that your internet connection is active, and may also assist with help in setting up your Wi-Fi network and connecting your devices.
Conclusion
AT&T's broadband delivers dependable, high-speed internet access featuring a variety of capabilities and benefits for residences throughout the United States. With its optic infrastructure, unlimited data usage, and advanced Wi-Fi technology, AT&T Internet offers a smooth online usage for streamed content, online gaming, and various data-intensive online activities.

The versatility of subscriptions and bundling options, in addition to their focus to customer service, renders AT&T Internet a sought-after selection among customers.

However, it's vital to consider factors such as serviceability, possible rate changes, contract conditions, and device requirements when signing up to AT&T Internet. By comprehending the conditions and terms of the subscription, you can make an informed choice and enjoy the advantages of reliable and swift connectivity with AT&T Internet.

In summary statement, AT&T Internet provides a robust and dependable broadband service that caters to the online requirements of American residences. With its rapid connectivity, cutting-edge features, and flexible plans, AT&T Internet is a preferred option for numerous users. If you're seeking a dependable internet service provider, AT&T Internet may be worth looking into for your home.